The Spirit of London by Rob Keeley – Book Review
The Spirit of London by Rob Keeley – Book Reviewed by Stacey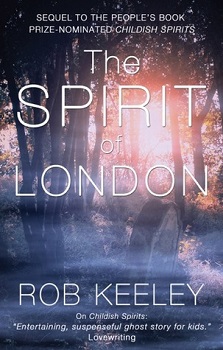 The Spirit of London
Author – Rob Keeley
Publisher – Matador
Pages – 152
Release Date – 28th July 2015
ISBN-13 – 978-1784624057
Available in paperback format
I received a free copy of this book in exchange for an honest review
The spirits were at work here, somehow. But why? On returning to London, Ellie investigates the mystery surrounding 47 Foster Square. Who is the sender of ghostly messages asking her for help? What is the secret of the Meadowes family? And what does Edward know about all this?
With her parents about to divorce, and her Mum acting very strangely, Ellie quickly discovers that a sinister force lies between her and the truth…
The Spirit of London is the second instalment in the thrilling and suspenseful 'Spirits' series and follows the success of The People's Book Prize-nominated Childish Spirits. It focuses on slavery and a mixed-race family in Georgian times. Ellie finds herself facing a very dangerous foe and will need all her courage and humanity to get her through.
The Spirit of London also sets up a story arc that will continue into future books in the series. The book will appeal to girls and boys of upper primary and lower secondary age – and to parents and teachers reading the book aloud!

Ellie and Edward are back, in the second installment of 'The Spirits' series for children, by Rob Keeley.
After the events in book one, 'Childish Spirits', in which Edward was the ghost haunting Inchwood Manor. He has turned a new leaf, thanks to Ellie and become a good ghost.
At the end of book one, Ellie and her family moved back to London, with a stowaway in a painting, Edward. Edward had only ever been to London once, many, many years ago, and wanted to see what it is like nowadays.
Mum, Judith, is working on another of Journeybacks projects, this time at 47 Foster Square, a home once occupied by the Meadowes family. On visiting her mum at her workplace, Ellie realises that she is not alone, and that there is ghostly activity in the house.
This time though, there has been a lot more going on than Edward just being naughty, like he was in the first book. The owner of the house was banished many years ago and is now back wanting revenge. He is not only after dealing with the deceased, but he has also taken over the living too, including Ellie's mum.
Can Ellie help banish the ghost before he causes too much harm, as well as deal with the bitter dispute surrounding her parents' divorce, which she seems to have found herself at the centre of?
I loved the first book, so when Rob asked if I would like to read the sequels, I didn't hesitate in saying yes, and was looking forward to getting stuck in.
This book certainly does not disappoint. I love the fact that Rob has also given us a history lesson, alongside his ghostly goings on.
Edward, although present, didn't really have a major role in this book, which is a shame as I find him intriguing and fun. I hope that he plays a more prominent role in the third book.
Ellie's mum is one of the characters which the ghost has taken mind control over. The trouble was that you couldn't really tell, as to me it was like her just being her usual selfish self. She is one character that I can't bond with.
This is an excellent sequel, and a flawless read. I would advise reading book one, but to be honest, this book can just as well be read as a stand alone.
I now can't wait to see what Rob has install for Ellie and Edward in the third book.
Book reviewed by Stacey
Purchase Links


I'm a writer of novels, short stories and drama, particularly for children and a family audience. I have written three novels and three collections of short stories for the 8-12s.
I am the creator of the "Spirits" series of ghost novels and the third of these, "The Sword of the Spirit" was published in July 2016. The first in the series, "Childish Spirits", was longlisted for the Bath Children's Novel Award as well as being nominated for the People's Book Prize and the International Rubery Book Award.
The second in the series, "The Spirit of London" was highly commended for the Independent Author Book Award. I also had a collection of short stories for children ("The Dinner Club and Other Stories") longlisted for the Rubery Award.
Author Links
www.robkeeley.co.uk
@RobKeeleyAuthor
Goodreads
Blog posts straight to email via Bloglovin – Like us on Facebook – Follow us on Twitter