Storm Rising by Rachael Richey – Book Review
Storm Rising by Rachael Richey – Reviewed by Stacey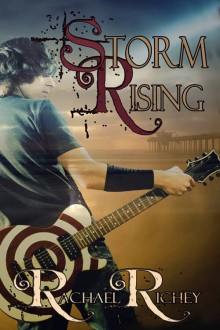 Storm Rising (NightHawk Series) Book One
Author – Rachael Richey
Publisher – The Wild Rose Press, Inc
Release Date – 13th February 2015
I received a free copy of this book in exchange for an honest review
Frontman of the grunge rock band, NightHawk, Gideon Hawk has had enough of the rock star life. He is jaded, disillusioned and haunted by the memory of an unresolved heartbreak. On a whim, he leaves the band in New York and heads to England in search for answers.
After attending the funeral of her estranged mother, Abigail Thomson makes a shocking discovery in her parent's attic. The raw memories that surface, along with even more startling discoveries force Abi to face a devastating truth that leads to a series of life changing events.
She and Gideon must race against time to reclaim the life stolen from them a decade ago.
The book jumps between two periods of time, from 2005 to flashbacks of 1994/5 when both Abi and Gideon were teenagers.
We starts off in 2005 at the funeral of Abigail Thomson's (Abi) estranged mother. Over the course of the first few chapters, Abi's hatred towards her newly deceased mother becomes apparent, the mother that she hadn't seen her in many years, prior to her death. You travel with Abi as she returns to the family home, where we meet her father, whom she clearly loves very much, mixed in with sympathy and distrust she has of him.
Abi is a wonderfully written character, in her twenties, bubbly and warm, and extremely headstrong. Especially as she is trying to live with her past events, events that will haunt her forever.
In the flashes back to 1994, you get to witness a young, rebellious, teenage Abi, as she embarks on her first serious relationship with her new boyfriend, Gideon Hawk, the boy who later broke her heart.
Gideon is a sexy, 29 year old rock star, and frontman of the band 'NightHawk', or he was until he decided to quit the band following their last concert in New York. After quitting the band, the other two members are left with no way of carrying on, but Gideon is adamant that he's had enough of the rock star life-style.
Over the years he could of have had any girl he wanted, but the only person he's ever loved is Abi. Now he's free from the band, he wants to see her again, brought on my his nightly dreams of her. For a rock star he's sensitive and caring, mixed in with an exceptionally witty personality.
I loved this book, so much that I did something I try not to do. I rushed through it in two days, as I needed to find out why Abi hated her mum so much. I mean what could a mother have done to make her only daughter detest her so much, that she never clapped eyes on her for many years before her death?.
The book was hard to put down and I completely lost sense of time whilst engrossed in a love story that had spanned a decade. Whould Abi and Gideon find each other again? and would there love still be as strong as it was ten years ago? You can clearly feel that this was two people who were meant to be together.
This is a truly wonderful love story, filled with hidden secrets, as the past unveils itself throughout the whole book. There are plenty of twists and turns in the present day, that have been brought on by the past. But be prepare to be shocked at the revelations about Abi's past, and what her mother did. I'm not sure any daughter could forgive a mother of such cruelty.
Rachael hasn't written stereotypical characters. The characters that she has created are true to life, with a narrative that is authentic. Her descriptions of the 1990's were spot on, and I was certainly taken back to that era. She has managed to make the whole book seem like we are reading about real people in real situations.
The book does take a few chapters to get in to, but then it anchors you to its pages and keeps you there wanting more. I thoroughly enjoyed following Abi and Gideons journey and loved being a spectator into their lives, both as teenagers and adults. I got the sense that these two were soul mates who were destined to be together.
The ending was perfectly written to make you want more. Now I need to know what the future has in store for all of them. Roll on book two!
Reviewed by Stacey
My rating:

Four stars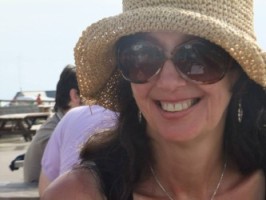 Rachael Richey lives in Cornwall with her husband and children. She writes Women's Fiction, and "Storm Rising" is the first book in the 'NightHawk Series'. She has been writing since she was a child, starting with stories about her teddy bears and dolls.
She lived in the Hebrides for nearly fourteen years, having originally gone there to work for the summer season. She met and married her husband David whilst there, and had two children, before moving to Cornwall at the end of 2000.
www.rachaelricheybooks.weebly.com
@rachaelrbooks
Facebook
Follow Whispering Stories Book Blog with Bloglovin to keep up to date with all our latest posts.