And the Ocean Was Our Sky by Patrick Ness – Book Review
And the Ocean Was Our Sky by Patrick Ness – Book Review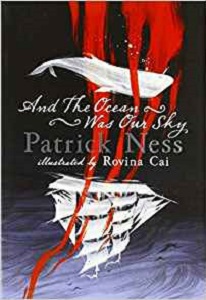 And the Ocean Was Our Sky
Author – Patrick Ness
Illustrator – Rovina Cai
Publisher – Walker Books
Pages – 160
Released – 6th September 2018
ISBN-13 – 978-1406383560
Format – ebook, paperback, hardcover, audio
Reviewer – Nia
Rating – 4 Stars
I received a free copy of this book
"Call me Bathsheba." The whales of Bathsheba's pod live for the hunt. Led by the formidable Captain Alexandra, they fight a never-ending war against men. Then the whales attack a man ship, and instead of easy prey they find the trail of a myth, a monster, perhaps the devil himself… With their relentless Captain leading the chase, they embark on the final hunt, one that will forever change the worlds of whales and men.
I'm not going to analyse this book too hard in search deeper meanings beyond a vague 'enemies aren't always who/what you expect' and 'war sucks' because it'll only give me a headache and I always wonder if authors are really putting that much thought into subtext when they write or if they're just enjoying spinning a good yarn for readers to enjoy at face value (I have no definitive answer to this, I just prefer face value).
The story is a switched perspective version of Moby Dick where the whales have their own advanced civilisation and form hunting pods to do battle against humans. I have never read the original, though I somehow doubt the whales were scientifically advanced, so I can't comment on how this book ties in to the original. All I know if that this book is a weird and wonderful read that made me sad, thoughtful and warm on the inside.
What I can say with a degree of certainty is that the hardback edition, illustrated by Rovina Cai, is one of the most beautiful books I've ever held in my hands. It has bold monochromatic artwork that perfectly captures the essence of the book and makes it a more immersive experience.
As long as you can sink into the vague world building without asking too many questions and enjoy the story for what it is, a beautiful and melancholy take on how whales might feel about whalers, it's something well worth experiencing.
Reviewed by Nia
---
Purchase online from:
---
About the Author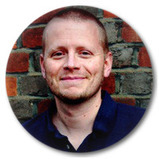 Patrick Ness, an award-winning novelist, has written for England's Radio 4 and Sunday Telegraph and is a literary critic for The Guardian. He has written many books, including the Chaos Walking Trilogy, The Crash of Hennington, Topics About Which I Know Nothing, and A Monster Calls.
He has won numerous awards, including the Guardian Children's Fiction Prize, the Booktrust Teenage Prize, and the Costa Children's Book Award. Born in Virginia, he currently lives in London.




---
Blog posts straight to email via Bloglovin – Like us on Facebook – Follow us on Twitter