The Colonel and the Bee by Patrick Canning – Book Review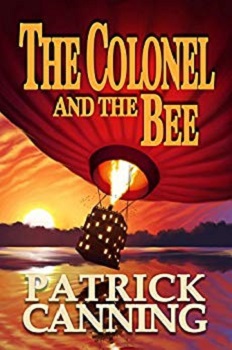 canadian pharmacy without prescription The Colonel and the Bee
Author – Patrick Canning
Publisher – Evolved Publishing
Pages – 280
Released – 28th May 2018
ISBN-13 – 978-1622530243
Format – ebook, paperback, audio
Reviewer – buy cialis without a doctor prescription Clive
Rating – visit website 3 Stars
I received a free copy of this book.
This post contains affiliate links.
A peculiar explorer and downtrodden acrobat span the globe on a building-sized hot air balloon, in search of a precious artifact and the murderous treasure hunter who seeks it.
Beatrix, a spirited but abused acrobat in a traveling circus, seeks more than her prison-like employment offers. More than anything, she wants to know her place in the world of the halcyon 19th century, a time when the last dark corners of the map were being sketched out and travel still possessed a kind of magic.
One night in Switzerland, the mysterious Colonel James Bacchus attends Beatrix's show. This larger-than-life English gentleman, reputed to have a voracious appetite for female conquests, is most notable for traveling the world in a four-story hot air balloon called The Ox.
Beatrix flees that night to join the Colonel, and the two of them make a narrow escape—Beatrix from her abusive ringleader, the Colonel from a freshly-made cuckold. Beatrix, feeling the Colonel may have the answers to her problems, pledges to help him catch the criminal he seeks in exchange for passage on his magnificent balloon.
The criminal seeks a precious figurine, The Blue Star Sphinx, but he's not alone. The Sphinx's immense value has also drawn the attention of the world's most deadly treasure hunters. A murder in Antwerp begins a path of mystery that leads all the way to the most isolated island on Earth.
What dangers await the Colonel and the acrobat?
The Colonel and the Bee promised much from the outset with a dramatic cover and our initial introduction to Beatrix. The story is told by her in the first person and I found myself immediately drawn into her character as a talented gymnast with feisty ambitions to make more of her life. The idea of her travelling around the world in such a magnificent machine promised a great deal.
Along the way there were some exciting incidents but generally that promise was not fulfilled. The overall plot did not excite me and between the moments of action there were long periods of drudgery and attempts at comedy that mostly fell flat.
That may have been because the book was almost certainly not aimed at someone with my profile. That said, I do have to wonder who it was aimed at. The story and its characters would appear suitable for young teens looking to progress from simpler magic stories but if that were true then was the Colonel's condoned attitude towards young women suitable for such an audience?
Although I was drawn in by Beatrix's personality I was not so convinced by the other characters who were either flat or stereotypical. This, I am sorry to say, included the mysterious Colonel who had little warmth.
The synopsis suggests that Patrick Canning has set The Colonel and the Bee in the 19th Century. The hot air balloon and the magic lantern would support that suggestion but many of the places visited appeared to be stuck in medieval times with some unrealistic comic touches. Nothing made me laugh out loud. Also, the Ox is remarkably manoeuvrable for a balloon powered solely by air currents in that they could steer direct courses to anywhere in the world and, with one notable exception, arrive within a day or so.
The text was easy enough to read and I persisted to the end, ever hopeful of some magic moments that never quite appeared. My overall feeling is that there could be a good novel featuring Beatrix and the hot air balloon but I don't think that The Colonel and the Bee is that novel. I have awarded three stars.
Book Reviewer – Clive
---
Purchase online from:
---
About the Author

Patrick spends as much time as possible turning coffee into collections of words that look like books, shorts, and screenplays. Most of his stories attempt to look for the meaning of life in an adventurous way, and often employ humor, important since the search usually doesn't turn up much. He is scared to use semi colons and rarely puts his seat back on airplanes.




---
What do you think of the book? Share your thoughts in the comment section below!
---
The above links are affiliate links. I receive a very small percentage from each item you purchase via these link, which is at no extra cost to you. If you are thinking about purchasing the book, please think about using one of the links. All money received goes back into the blog and helps to keep it running. Thank you.
Posts straight to email via Bloglovin – Like us on Facebook – Tweet us Twitter – Pin us on Pinterest
If you enjoyed our post please feel free to share it using the social media links below.