Friday Free Books – 28th April 2017
Friday Free Books – 28th April 2017
This weeks top picks of FREE to download books from various genres. Hopefully we have chosen something that you can all enjoy.
1- A Change for the Better by Pamela Fudge
Jo Farrell has spent her entire life putting other first.
Home alone one Friday night with an empty weekend stretching before her, a chance encounter with her downstairs neighbour Greg, sparks an unlikely friendship. With the help of her new friend, Jo creates a list of ten things she wants to do to turn her life around.
Learn to drive, finally stick to that diet, go on holiday somewhere exotic, visit a clairvoyant… All the things that Jo wanted to do, but life always got in the way of. As their friendship blossoms, Greg is a great support in helping Jo achieve her goals, a source of great entertainment and gossip for her nosy neighbour Miss Gutheridge.
Recognising the impact their friendship has had on their lives, Greg seeks Jo's help with a list of his own, aware that he has put his life on hold since losing his beloved wife Monica. It's not long before people other than Greg start to notice Jo's new image and her new found confidence, and she soon finds herself being wined and dined by a new admirer.
But an unwanted visitor to the flat stirs up old memories and threatens to undo all the progress Jo has made. Will completing her list bring her the life she always longed for? Or is there a surprise in store…?
Free download Links

---
2- Love in Rewind by Tali Alexander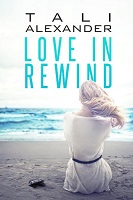 Emily has the life every woman dreams of.
At 29, she has two beautiful kids, a live-in nanny, housekeeper, cook, and every imaginable luxury in the posh Upper East Side townhouse she shares with her drop-dead gorgeous husband, Louis Bruel. His company, Bruel Industries, owns a big chunk of New York City's most sought-after real estate, and together Emily and Louis embody the perfect hot fairy tale couple for ten happy years of marriage.
But when Louis mysteriously starts pushing Emily away, becoming distant and secretive, she is forced to search for the truth among the lies, scandal and heartbreak of his past that threaten to shatter her world. What she finds out will test the strength of her love and her vows to the man of her dreams.
Can Emily and Louis rewind far enough back to a time when life was simpler and love was all they needed? Follow their story with the help of some of their favorite songs from the 80's to discover just how deep and how far love will go.
Free Download Links


---
3- Disorganized Crime by Alex A. King
There's no offer for her to refuse …
Kat Makris was a little girl when her father spun wild and outrageous bedtime stories about Baboulas, the Greek boogeyman, a lawless creature with a penchant for stealing gold and clashing with the gods.
Now Kat is twenty-eight, single, a couch potato in a cube farm, when her father goes missing. Without him, she's alone in the world. Before the police can work their mojo, she herself is abducted by a couple of hoods with crooked noses, and she quickly discovers her father's old stories were true—true crime, that is.
Baboulas is an infamous mob boss in Greece, and Baboulas is the one who has Kat holed up in a private plane bound for Greece.
Now, to find her father, Kat must face the boogeyman …
Free Download Links


---
4- Trouble in Mudbug by Jana DeLeon
Scientist Maryse Robicheaux thought that a lot of her problems had gone away with her mother-in-law's death. The woman was rude, pushy, manipulative and used her considerable wealth to run herd over the entire town of Mudbug, Louisiana.
Unfortunately, death doesn't slow down Helena one bit.
DEA Agent Luc LeJeune is wondering what his undercover assignment investigating the sexy scientist has gotten him into – especially as it seems someone wants her dead. Keeping his secrets while protecting Maryse proves to be easier than fighting his attraction for the brainy beauty.
Free Download Links


---
5- The Forever Man by Craig Zerf
The world, as we know it, has ended.
One man stands resolute. A man who has been trained in the savage arts of war. A man who lives his life according to a creed. A simple man who wants none of the power thrust upon him. This man is Marine Sergeant Nathaniel Hogan, seconded to the American Embassy in London and, although he does not know it, he is – The Forever Man.
The first pulse occurred in the old calendar year of 2022. A sequence of gigantic solar flares created a series of massive electromagnetic pulses that stopped the heart of our modern world and returned us to the DARK AGES. Tens of thousands died within the first few hours as airplanes fell from the skies, hospitals ceased to work and every form of modern transportation ground to a halt.
Within days the death toll had reached the hundreds of thousands. Fires raged unchecked through the cities, water supplies ran out and survivors turn on each other as mob rule surpassed all else.
And Nathaniel finds that he has been changed by the huge amounts of Gamma radiation in the solar flares. They have enhanced his natural abilities, giving him increased speed, strength and healing. Indefinitely extended his life span and enabling him to be able to draw on the power of the solar flares to create magik.But even The Forever Man was not prepared for what happened next, as the ongoing flares tore a hole in time and space, creating a gateway through which 'they' appeared. From the realms of fantasy came the orcs, the goblins and, leading them all – the Fair Folk. Were they here to help – or to conquer?
Free Download Links


---
6- Luna & Alook's Magical Music book by Kimberley Kleczka
Luna & Alook's Magical Music book is about how Luna and Alook get sucked into the magical adventure travel book and then come to discover a magical picturesque town, where they get to meet lots of interesting characters. One of them being an old tree called Wispy.
Magical notes bump into Alook and Luna gets to play a drum on stage with a goat band. "Come and rock with us dude," said the happy hippy goat, he wore big crazy glasses and a long colorful coat.
All the way through this book are unusual musicians playing different instruments.
This book is about the magical music adventures of these two fun loving birds.
Free Download Links

---
Prices correct as of 28th April 2017
Blog posts straight to email via Bloglovin – Like us on Facebook – Follow us on Twitter