Sweet Southern Hearts by Susan Schild – Cover Reveal
Sweet Southern Hearts by Susan Schild – Cover Reveal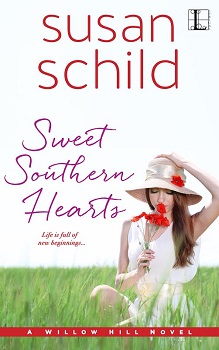 Sweet Southern Hearts
A Willow Hill Novel
Author – Susan Schild
Publisher – Lyrical Press
Release Date – 10th January 2017
Available in ebook format

Susan Schild welcomes you back to the offbeat Southern town of Willow Hill, North Carolina, for a humorous, heartwarming story of new beginnings, do-overs, and self-discovery…
When it comes to marriage, third time's the charm for Linny Taylor. She's thrilled to be on her honeymoon with Jack Avery, Willow Hill's handsome veterinarian. But just like the hair-raising white water rafting trip Jack persuades her to take, newlywed life has plenty of dips and bumps.
Jack's twelve-year-old son is resisting all Linny's efforts to be the perfect stepmother, while her own mother, Dottie, begs her to tag along on the first week of a free-wheeling RV adventure. Who knew women "of a certain age" could drum up so much trouble? No sooner is Linny sighing with relief at being back home than she's helping her frazzled sister with a new baby…and dealing with an unexpected legacy from her late ex. Life is fuller—and richer—than she ever imagined, but if there's one thing Linny's learned by now, it's that there's always room for another sweet surprise…
Pre-order Links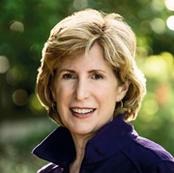 Susan Schild writes heartwarming and funny contemporary Southern fiction. Her stories feature adventuresome women, good men, blended families, sweet dogs, friends and family who see you through, and happily ever afters at any age.
Susan is a wife and stepmother. She enjoys weekend getaways with friends, reading fiction, and rummaging through thrift stores for finds like four dollar cashmere sweaters. A dog lover, Susan has a special fondness for Lab mix rescue dogs. She and her family live in North Carolina where she is finishing up the third novel in the Willow Hill Series, Sweet Southern Hearts, which will be released January 10, 2017.
Susan graduated from James Madison University in Virginia, and holds a master's degree from The University of North Carolina at Chapel Hill. She has used her professional background as a psychotherapist and management trainer to add authenticity to her characters.
Author Links
www.susanschild.com
@susan_schild
Facebook
Goodreads
Follow Whispering Stories Book Blog on Bloglovin to keep up to date with all the latest posts.