The Writing Life of: Cathy Bramley
Cathy Bramley
Cathy Bramley is the author of the best-selling romantic comedies Ivy Lane, Appleby Farm, Wickham Hall, Conditional Love and The Plumberry School of Comfort Food. She lives in a Nottinghamshire village with her family and a dog.
Her recent career as a full-time writer of light-hearted, romantic fiction has come as somewhat of a lovely surprise after spending eighteen years running her own marketing agency. However, she has been always an avid reader, never without a book on the go and now thinks she may have found her dream job!
Cathy loves to hear from her readers.

1) Do you remember the moment you decided that you would like to become a writer?
There wasn't a single moment. I began thinking four years ago that I'd like to give writing a go. I self published my first book 'Conditional Love' 18 months later.
2) How did you go about following your dream?
I'm not a dreamy sort of person. I'm more of a planner. I just sat down and wrote a terrible first draft and then worked and worked at it to improve it.
3) Is there a particular author that inspires you?
Lots of writers inspire me. Not just because of the books they write but the work they do to encourage and support others.
My two favourites are Miranda Dickinson and Katie Fforde.
4) What is your average writing day like? Do you have any strange writing habits?
I'm lucky enough to be able to write full time and usually spend 7-8 hours at my desk. It's not always productive though!
I don't think I have any strange habits although I do find that I'm grinning away when my main character is smiling!
5) Do you write Longhand, Type writer, Computer?
I write on my Computer.
6) From all your books, do you have a favourite character?
My favourite is probably Tilly Parker from Ivy Lane.
7) Do you plot your books completely before hand or do you let your imagination flow whilst in the writing process?
I plot in great detail before I begin but the story always changes as the characters take over.
Concerning your latest book: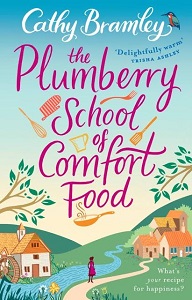 The Plumberry School of Comfort Food
Author – Cathy Bramley
Publisher – Corgi
Pages – 496
Release Date – 30th June 2016
The Plumberry School of Comfort Food was originally published as a four-part serial. This is the complete story in one package.
Verity Bloom hasn't been interested in cooking anything more complicated than the perfect fish finger sandwich, ever since she lost her best friend and baking companion two years ago.
But an opportunity to help a friend lands her right back in the heart of the kitchen. The Plumberry School of Comfort Food is due to open in a few weeks' time and needs the kind of great ideas that only Verity could cook up. And with new friendships bubbling and a sprinkling of romance in the mix, Verity finally begins to feel like she's home.
But when tragedy strikes at the very heart of the cookery school, can Verity find the magic ingredient for Plumberry while still writing her own recipe for happiness?
8) How long did it take to get from the ideas stage, to the date of publication?
It took ten months in total.
9) Did you suffer from writer's block at any stage? How did you overcome it?
If I get stuck, I go back to my planning notes and try and work out what it is I'm trying to say. If all else fails, I take the dog for a walk until inspiration strikes!
10) How did you come up with the name(s)for your lead character(s)?
Sometimes the characters go through several name changes before I hit in the right one. But with The Plumberry School Of Comfort Food, I had the name of Verity Bloom immediately.
11) If your book was made in to a film, who would you love to play the lead character(s)?
Verity – Emily Blunt
Tom – Colin Farrell
Gabe – Ewan McGregor
12) Did you get anyone in particular to read your work before sending it to the publisher i.e family member, friend etc?
No never. The first draft is for my eyes only!
Other Books by Cathy Bramley
A takeaway, TV and tea with two sugars is about as exciting as it gets for thirty-something Sophie Stone. Sophie's life is safe and predictable, which is just the way she likes it, thank you very much.
But when a mysterious benefactor leaves her an inheritance, Sophie has to accept that change is afoot. There is one big catch: in order to inherit, Sophie must agree to meet the father she has never seen.
Saying 'yes' means the chance to build her own dream home, but she'll also have to face the past and hear some uncomfortable truths…
With interference from an evil boss, warring parents, an unreliable boyfriend and an architect who puts his foot in it every time he opens his mouth, will Sophie be able to build a future on her own terms – and maybe even find love along the way?
From spring to summer, autumn to winter, a lot can happen in a single year . . .
Tilly Parker needs a fresh start, fresh air and a fresh attitude if she is ever to leave the past behind and move on with her life. As she seeks out peace and quiet in a new town, taking on a plot at Ivy Lane allotments seems like the perfect solution.
But the friendly Ivy Lane community has other ideas and gradually draw Tilly in to their cosy, comforting world of planting seedlings, organising bake sales and planning seasonal parties.
As the seasons pass, will Tilly learn to stop hiding amongst the sweetpeas and let people back into her life – and her heart?
Freya Moorcroft has wild red hair, mischievous green eyes, a warm smile and a heart of gold. She's been happy working at the café round the corner from Ivy Lane allotments and her romance with her new boyfriend is going well, she thinks, but a part of her still misses the beautiful rolling hills of her Cumbrian childhood home: Appleby Farm.
Then a phone call out of the blue and a desperate plea for help change everything…
The farm is in financial trouble, and it's taking its toll on the aunt and uncle who raised Freya. Heading home to lend a hand, Freya quickly learns that things are worse than she first thought. As she summons up all her creativity and determination to turn things around, Freya is surprised as her own dreams for the future begin to take shape.
Love makes the world go round, according to Freya. Not money. But will saving Appleby Farm and following her heart come at a price?
Holly Swift has just landed the job of her dreams: events co-ordinator at Wickham Hall, the beautiful manor home that sits proudly at the heart of the village where she grew up. Not only does she get to organise for a living and work in stunning surroundings, but it will also put a bit of distance between Holly and her problems at home.
As Holly falls in love with the busy world of Wickham Hall – from family weddings to summer festivals, firework displays and Christmas grottos – she also finds a place in her heart for her friendly (if unusual) colleagues.
But life isn't as easily organised as an event at Wickham Hall (and even those have their complications…). Can Holly learn to let go and live in the moment? After all, that's when the magic happens…
www.cathybramley.co.uk
@CathyBramley
Facebook
Google+
Pinterest
Instagram
Follow Whispering Stories Book Blog with Bloglovin to keep up to date with all our latest posts.