The Writing Life of: James Wilson
James Wilson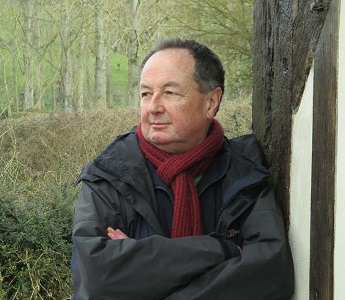 JAMES WILSON was born and brought up near Cambridge, and studied History at Oxford University. He now divides his time between London and France.
In 1975 James received a Ford Foundation grant to research and write The Original Americans: US Indians, for the Minority Rights in London. Over the next twenty-five years he travelled widely in the US and Canada, working on – among other projects – a number of radio and TV documentaries, including the award-winning Savagery and the American Indian and The Two Worlds of the Innu, both for the BBC.
His critically-acclaimed history of Native Americans, The Earth Shall Weep, was published by Picador in the UK in 1998, and by Grove/Atlantic in the US the following year. In 2000, it won a Myers Outstanding Book award. James continues to serve as a member of the executive committee of Survival, an international organisation campaigning for the rights of indigenous peoples worldwide.
1) Do you remember the moment you decided that you would like to become a writer?
I can't recall a specific moment, but I knew from the age of five that I wanted to write, and that ambition never left me.
2) How did you go about following your dream?
I completed the draft of a (short) novel while I was still at university: I haven't looked at it for years, but I imagine it was terrible. After that, for a variety of personal reasons, there was a huge gap, during which I wrote drama, TV documentaries and non-fiction. It was only following the successful publication of The Earth Shall Weep: A History of Native America in 1998 that I was finally able to return to my first love, fiction.
3) Is there a particular author that inspires you?
Too many to list in full. Names that immediately spring to mind are Dickens, George Eliot, Robert Louis Stevenson, Nabokov, Raymond Chandler, Rebecca West, and the Victorian children's author E. Nesbit.
4) What is your average writing day like? Do you have any strange writing habits?
From what I know of other authors, I'm afraid my habits are boringly normal.
In the very early stages, when I'm developing an idea and starting to plot, my timetable is a bit erratic, because my brain usually demands a break after a couple of hours; but as soon as I start writing in earnest, I follow the same pattern pretty much every day: work in the morning; exercise (walking, or, when I can, swimming) in the afternoon; work again from around 5.00 to 6.30 or 7.00.
The aim – which I generally manage to stick to – is to produce something between 500 and 1000 (usable!) words per day.
5) Do you write Longhand, Type writer, Computer?
Computer. My handwriting is so terrible that I often can't read it myself, so the word processor is a life-saver.
6) From all your books, do you have a favourite character?
I like different characters at different times and for different reasons. But I'm particularly fond of Ned Gudgeon and Corley Roper, the narrators, respectively, of The Bastard Boy and Consolation.
7) Do you plot your books completely before hand or do you let your imagination flow whilst in the writing process?
I couldn't write without a very broad sense of where I'm going, but I find that if I'm too prescriptive it hampers my imagination. Every book is really a kind of conversation, between the road map I start out with, and ideas that emerge during the course of the journey.
Concerning your latest book: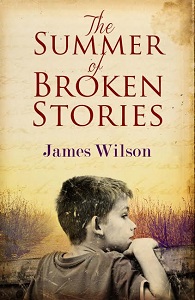 The Summer of Broken Stories
Author – James Wilson
Pages – 288
Publisher – Alma Books Ltd
Release Date – 19th May 2016
England, 1950s. While out playing in the woods, ten-year-old Mark meets a man living in an old railway carriage. Despite his wild appearance, the stranger, who introduces himself as Aubrey Hillyard, is captivating – an irreverent outsider who is shunned by Mark's fellow villagers, and a writer to boot.
Aubrey encourages Mark to tell stories about his own make-believe world, and in return he informs the boy about a novel he is writing – a work of ominous science fiction. As the meddling villagers plot to drive Aubrey out, Mark finds himself caught between two worlds – yet convinced that he must help Aubrey prevail at any cost.
8) How long did it take to get from the ideas stage, to the date of publication?
Hmm. That's a difficult question to answer. I usually have at least the seed of an idea while I'm still writing something else, and I tend just to let it bubble away in my sub-conscious until I'm ready to bring it into focus. But if you measure the process from the time I began working on it full-time to the day of publication, this book took around two-and-a-half years.
9) Did you suffer from writer's block at any stage? How did you overcome it?
The Summer of Broken Stories actually came comparatively easily, but with every project there are moments when I find I'm having to battle uphill, or even grinding to a complete halt. Almost invariably, when that happens, it's because I've failed to imagine what I'm writing about deeply enough.
Sometimes all that's required is to free associate, and allow some wilder ideas into the mix; but occasionally, and very annoyingly – although this is less often the case now, because with experience I've got better at reading the signs – I end up having to abandon the chunk I've been working on altogether, and start again.
10) How did you come up with the name(s)for your lead character(s)?
Always, when I'm naming characters, I run a whole lot of alternatives through my head, and stop when I get to one that feels right.
11) If your book was made in to a film, who would you love to play the lead character(s)?
The protagonist is a ten-year-old boy, and I don't feel sufficiently au fait with child actors to suggest anyone for the part. But – although it would require a bit of work from a make-up artist – I think Mark Rylance would make a wonderful job of playing the central adult character, Aubrey Hillyard.
12) Did you get anyone in particular to read your work before sending it to the publisher i.e family member, friend etc?
Both my wife, Paula, and our elder son, Tom, are generous readers and perceptive critics, and with this project – as with everything I write – I relied heavily on their advice. And my agent, Anna Power, read through the completed ms with exemplary care, and made some excellent editorial suggestions.
Other books by James Wilson
Placing Native Americans centre-stage, and drawing not only on historical sources but also on ethnography, archaeology, Indian oral tradition, and research in contemporary Native American communities, this book sets out to recover their experience and make it accessible to a non-Indian audience.
The text charts the course of the collision between indigenous cultures and European invaders, from the first English settlements on the Atlantic coast to the Wounded Knee massacre in 1890.
At the same time, it explains how Europeans justified a process that reduced the Native American population from an estimated 7-10 million to less than 250,000 in four centuries. In his conclusion, the author shows how these same ideas have continued to underpin government policy towards native people in the 20th century and to distort popular perceptions of the "Indian".
'This is a book begun, but not finished. I could not finish it. Many times I have come close to destroying it, thinking I should have no rest while it remained to reproach me. I could not bring myself to do it. I have therefore given instructions that it should be sealed in a box, which is to remain unopened until I, my wife Laura, our sister Marion Halcombe, and all our children are dead.'
So begins James Wilson's brilliant imaginative recreation of the Victorian sensation novel as the characters from Wilkie Collins's The Woman in White – Walter Hartright and Marion Halcombe – are involved in another dramatic and dangerous conspiracy. Walter is commissioned to write a biography of the greatest of English painters, JMW Turner, whose life was shrouded in mystery. His researches take him to the dark secret at the centre of Turner's work and involve him and Marion in confronting crimes and human degradation that threaten their sanity and their lives.
1910, and Corley Roper, an eminent children's author of his age, mourns the death of his young daughter. Estranged from his wife, and wracked by grief, he happens one night upon Mary Wilson, a woman in a similar position, as she mourns her stillborn son.
No longer able to inhabit the fictional world that made his name, and haunted by the spectre of this other lost child, Roper decides that it is only through engaging with the real world, and the mystery of Mary Wilson's dispossessed heritage, that he may find purpose.
Meanwhile, a young American journalist, Alice Dangerfield, has travelled across the Atlantic on a quest of her own, to track down her most cherished author.
Ned Gudgeon wakes to find himself in a cell. He has no idea where he is or how he came to be there, but – seeing pen and paper – he begins to write. What follows is Ned's remarkable story, the story of his quest for his missing nephew, taking him from the corrupt and teeming slaving port of Bristol to the turmoil of the colonies on the brink of revolution.
What is the truth behind the mystery of the bastard boy?
On his return to Britain after the First World War, Henry Whitaker begins his career as a film-maker – first as assistant to the legendary director Arthur Maxted, and then as one of the country's foremost documentary-makers. But all the while he yearns to create a feature film of his own – a work of art that will give his life meaning.
Interwoven with Henry's narrative is the present-day quest of his daughter, Miranda, to understand what happened to her mother, a refugee Henry met and married in Germany at the end of the war. Did Henry – as his daughter has always supposed – drive Romana to suicide? Or do Miranda's half-repressed childhood memories hint at an altogether more complex and extraordinary truth?
www.jameswilsonauthor.com
@jcwilsonauthor
Goodreads
Blog posts straight to email via Bloglovin – Like us on Facebook – Follow us on Twitter